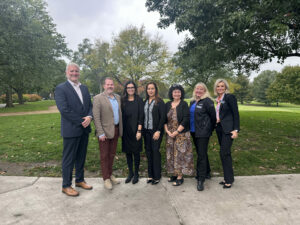 Thanks to our area commercial lending partners who comprised our "Access to Capital" panel
at Belmont Golf Club on October 19. Featured experts included Tom Harris from Bank Financial
in Downers Grove, Lori Ritzert and Beata Gesicki from Community Bank of Downers Grove,
Cynthia Burkell of Huntington Bank in Downers Grove and Anna Maria Kowalik of the Illinois
Energy Conservation Authority (IECA).
A wide range of financing options were discussed by our panelists.
Tom Harris of Bank Financial described a Universal Line of Credit for working capital, available
to companies with B to B accounts receivable. For details, Tom Harris, SVP of Commercial
Finance can be reached at tharris@bankfinancial.com.
As a Wintrust Community Bank and a branch of Hinsdale Bank & Trust, Community Bank of
Downers Grove supports area businesses with SBA loans and a wide range of commercial
financing solutions and is an Advantage Illinois Loan Program participating lender. To learn
more about Advantage Illinois loans for Illinois small businesses and other financing options,
contact Lori Ritzert, email lritzert@hinsdalebnk.com.
Huntington Bank's Lift Local Business program offers low-cost, no origination fee loans of
$1,000 to $150,000 to minority-owned, women-owned and veteran-owned businesses. To learn
more about these and other financing options, reach out to Cynthia Burkell at
cynthia.p.burkell@huntington.com.
Senior VP AnnaMaria Kowalik of The Illinois Energy Conservation Authority NFP (IECA) discussed
their innovative C-PACE program developed to help private commercial property owners make
eligible energy saving improvements to existing buildings and new construction projects. To
learn more about IECA financing programs, email AnnaMaria.Kowalik@iecapace.org.
These are just a few of many lending solutions available to small and growing businesses in
Downers Grove and surrounding DuPage County. For more information, please do not hesitate
to contact the lending professionals listed above or DGEDC, the economic engine of Downers
Grove!