October 16, 2018
Green Bay Packaging Expands Operations In Illinois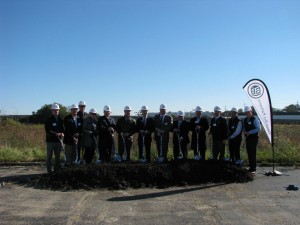 Downers Grove, IL – October 16, 2018 – Green Bay Packaging (GBP) is set to break ground for the construction of a new 170,000 square foot complex. Downers Grove was chosen as a central location to serve the Chicagoland area and allow for future growth of the business.
With over 85 years of packaging experience, Green Bay Packaging is more excited than ever to add additional capacity to their growing footprint. Executive Vice President, Bryan Hollenbach states, "Green Bay Packaging follows the needs of their customers and we have seen a strong increase in demand in the Chicago area. We are proud to extend our company's service offerings, and our dedicated team of highly experienced professionals are ready to fulfill this demand."
"With this expansion, we are strengthening our operations in the Chicago area," explained Will Kress, President and CEO of Green Bay Packaging. "This allows us to respond more quickly to changes in market demand and supply high quality products to our customers."
The Chicago Distribution Center's new plant in Downers Grove, IL will be a modern, state-of-the-art building that will house a high-tech design department as well as expand warehouse capabilities.
"When we began looking for a new home for Green Bay Packaging's Chicago Division, Downers Grove made a lot of sense because its central location allows us to efficiently service customers across the entire Chicagoland area." said Kevin Shields, Vice President and General Manager of the Chicago Division.
'We are absolutely thrilled that Green Bay Packaging has chosen Downers Grove in which to build their new 170,000 square foot facility," said Mayor Martin Tully.  "Founded in 1933, Green Bay Packaging is a company with a proud heritage that we warmly welcome and are honored to have join our community."
About Green Bay Packaging Inc. 
Started in 1933, Green Bay Packaging Inc. is a family-owned, vertically integrated company consisting of corrugated container plants, folding cartons, recycled and virgin linerboard mills, pressure-sensitive label rollstock, specialty converting operations, timberlands, and a sawmill facility. Headquartered in Green Bay, Wis., Green Bay Packaging Inc. is dedicated to innovative development of its products and forestry resources, with a focus on quality, sustainability and continuous improvement throughout all of its manufacturing facilities in 14 states. For more information about Green Bay Packaging Inc., visit www.gbp.com
For additional information, please contact:
Bryan Hollenbach
Executive Vice President
+1 (920) 433-5202